Police Sue Afroman for Using Home Raid Footage in Music Videos:
In August 2022, police in Adams County, Ohio raided the home of Joseph Foreman -- a.k.a. Afroman -- on unfounded suspicions of drug trafficking and kidnapping. In brilliant retaliation, the "Because I Got High" rapper used home security footage of the raid and referenced it in multiple music videos. Now, seven officers have sued Afroman for allegedly invading their privacy.

Local news outlets report that the plaintiffs -- four deputies, two sergeants, and a detective -- are claiming Afroman took footage of their faces obtained during the raid and circulated it without their consent, which is a misdemeanor violation under Ohio Revised Code. They're also suing on civil grounds, claiming they've suffered "emotional distress, embarrassment, ridicule, loss of reputation, and humiliation." [...]

"They come up here with AR-15, traumatize my kids, destroyed my property, kick in my door, rip up and destroy my camera system," Afroman said of the raid at the time. The officers took a number of items from his home, including about $5,000 in cash.
HamasakiLaw:
Watch for "cops save baby ducks" stories in the next few months. Media collaborates with police to produce these puff pieces after every police brutality incident. Literally every dept does these after police killings, it's amazing.
Police seem to be heroically rescuing baby ducks... pretty much everywhere:
I found 30 -- yes 30 -- separate stories from just the last two years before I decided I'd spent enough time on this post. I'm sure a more thorough search would have turned up a lot more.

What's incredible is not just that so many baby ducks keep wandering into storm drains, but also that there are so often police officers nearby to save them, and that word of these rescues keeps finding its way to a local news reporter. It's quite the fortuitous string of coincidences.

In any case, please enjoy these 30 stories about police saving baby ducks.

Eureka, California
Montgomery County, Maryland
Sevierville, Tennessee
Hudson, Wisconsin
Jacksonville, Florida
Whitemarsh, Pennsylvania
Andover, Massachusetts
Bartlett, Tennessee
South Salt Lake City, Utah
Bellevue, Washington

Topeka, Kansas
Manlius, New York
Jamestown, New York
Caldwell, Idaho
North Mankato, Minnesota
Marlborough, Massachusetts
Manchester, New Hampshire
Rome, New York
Cape May, New Jersey
Blue Ash, Ohio

Harlingen, Texas
Heyward, California
Evansville, Indiana
Anne Arundel County, Maryland
Poughkeepsie, New York
Punta Gorda, Florida
Overland Park, Kansas
Somewhere in Arizona
Edmond, Oklahoma
Calabash, North Carolina
Previously, previously, previously, previously, previously, previously, previously, previously.
It just keeps going! Keep watching until they fail their saving throw against the wizard.
New legal filing shows how cops continue to roust the unhoused even when the city can't offer any safe and secure shelter.
Although Ryu issued an injunction barring further sweeps Dec. 21, "the city is just back to business as usual," Hadley Rood, a lawyer for the plaintiffs, told me. [...]

The SFFD incident commander [...] attempted to speak to them but, when one person responded to him in Spanish, he turned away, saying, "I don't speak Mexican!" It did not appear that HOT had a Spanish-speaking worker present, so they were not able to communicate with these individuals at any point during the sweep. [...]

He said that, if people did not leave the area immediately, SFPD would begin "running names," meaning conducting warrant checks on the individuals present at the site. He also said that DPW was going to come and throw people's property away if they did not pack up quickly enough. At this point, no concrete shelter offers had been made.

The city, according to the petition, has offered a range of justifications for the continued sweeps, including the bizarre argument that when the police order people to move, those orders are voluntary and temporary:

The suggestion that forcibly waking people up, standing over them, and yelling at them to move, is not an enforcement threat, flies in the face of common sense and should be precluded. Nor is there any indication that moving is voluntary or temporary.

The problem here is that the mayor wants unhoused people out of sight and mind, and is personally calling for the sweeps. Even in the middle of a massive series of dangerous storms. Even when a federal judge says it's illegal.
The shitheels at the UC Hastings Shitheel Lawyer Factory have muddied the waters here, no doubt to the delight of Breed and SFPD, by getting a judge to order the city to get all of those unsightly homeless people away from their Tenderloin campus. So there's a 2020 order from a judge saying "get the homeless out of the Tenderloin and into shelters or hotels" and there's a 2022 order from another judge saying "you can't sweep tents unless there's somewhere for them to go". Breed and Chiu say "it is impossible for San Francisco to comply with both injunctions", so we're gonna just trash their tents without giving them shelter. Close enough?
US law enforcement killed at least 1,176 people in 2022, making it the deadliest year on record for police violence.
While the numbers have crept up, the circumstances that precede the killings have remained consistent.

In 2022, 132 killings (11%) were cases in which no offense was alleged; 104 cases (9%) were mental health or welfare checks; 98 (8%) involved traffic violations; and 207 (18%) involved other allegations of nonviolent offenses. There were also 93 cases (8%) involving claims of a domestic disturbance and 128 (11%) where the person was allegedly seen with a weapon. Only 370 (31%) involved a potentially more serious situation, with an alleged violent crime.

"These are routine police encounters that escalate to a killing," said Samuel Sinyangwe, a data scientist and policy analyst who founded Mapping Police Violence and provided 2022 data to the Guardian. "The reduction in the conversation around police violence does not mean that this issue is going away. What's clear is that it's continuing to get worse, and that it's deeply systemic."

What's more, in 32% of cases last year, the person was fleeing before they were killed, generally running or driving off -- cases in which experts say lethal force is unwarranted and also endangers the public.
Previously, previously, previously, previously, previously, previously, previously, previously, previously, previously.
marius_mich:
"RWE's strategy: quickly dig away areas that can be used by activists"
The village of Luetzerath is to be demolished to expand the Garzweiler lignite coal mine:
Activists threw fireworks, bottles and stones at police [...] Protesters previously had set up a burning barricade, and one glued his hand to the access road. Activists have been living in houses abandoned by former residents.
I would like to report an absolutely absurd use of metaphor.
If you walked by 17th and Valencia on your way to lunch today, you may have noticed an enormous pile of trash steaming on the road just beyond the police station doors.
Previously, previously, previously, previously, previously, previously, previously, previously, previously, previously.
Denver police in SWAT gear raided Johnson's Montbello home looking for a stolen cellphone that had pinged in the area.
Johnson, in her bathrobe, opened her door when an officer on a bullhorn told anyone inside to come out. Officers carrying rifles stood on her lawn next to an armored tactical vehicle. One officer held the leash of a German shepherd K9.

Once inside her home, Johnson said, they smashed a door to her garage with a battering ram, broke apart a ceiling panel, broke the head off of a beloved collectible doll and left the house in disarray. [...]

The search warrant followed a report of a truck stolen from a Denver hotel. The owner of the truck said there were five handguns, a rifle, two drones, $4,000 in cash and an iPhone in the vehicle when it was stolen [...]

The following day the truck owner told Staab that he used the Apple "Find My iPhone" app [...] The truck owner rented a car and drove by Johnson's house and told Staab that he didn't see his truck but it could be in the garage. [...]

The search warrant never should have been approved, according to Johnson's lawsuit. Staab never tried to corroborate the truck owner's findings and never conducted an independent investigation before filing the request, the lawsuit states. The "Find My iPhone" app gives an approximate location and is not meant to be a law enforcement tool. [...]

"The screenshot offered no basis to believe McDaniel's iPhone was likely to be inside Ms. Johnson's house, rather than on any of several neighbors' properties, or discarded on a nearby street by a passing driver," the lawsuit states. [...]

The police department did not pay Johnson anything to repair the damage to her home, said Greg Brunson, Johnson's son. The family and their friends sent numerous emails to the department in the months after the incident asking for an apology but never received one, he said. [...]

The investigation into the stolen truck remains open and nobody has been arrested, Denver police spokesman Doug Schepman said.
Previously, previously, previously, previously, previously, previously, previously.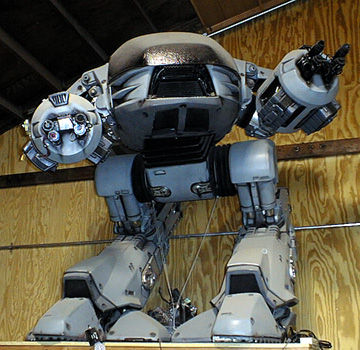 Supes approve killer robots, 8-3:
Only Sups. Hillary Ronen, Dean Preston, and Shamann Walton voted against the plan. So much for a progressive majority. Even Sup. Gordon Mar, who already lost his re-election and has nothing more to lose, voted with the police.

[...] It's a huge precedent that has received national attention. San Francisco, the progressive city, has approved a policy that gives the cops another potentially very dangerous tool to use in what are, frankly, vague situations.

Yes, the rules say that only very senior officers can authorize the killer robots -- but given the way senior cops have authorized and defended a lot of completely unacceptable killings in this town, that doesn't blunt the impact of the decision.

It does suggest that the media-hyped Fear of Crime that led to some of the worst criminal-justice policies in modern history in the 1980s is back, in this city, right now.
These supervisors voted in favor of allowing SFPD to execute people by remote control:
Connie Chan, Catherine Stefani, Ahsha Safai, Aaron Peskin, Myrna Melgar, Gordon Mar, Rafael Mandelman, and, to the surprise of nobody, Matt Dorsey.
Dean Preston's dissenting statement:
Today's vote approving the San Francisco Police Department's dystopian military equipment policy -- which will allow SFPD to use robots to kill people -- is deeply disturbing. It is frankly embarrassing that the Board approved this policy based on nothing more than nonsensical hypotheticals [...]

This is a sad moment for our City, and one which shows how far the City has strayed from the reckoning on police violence in 2020. Allowing police to arm remote-controlled robots on the streets of San Francisco is dangerous, and like any other weapons used by police, will place Black and brown people in disproportionate danger of harm or death.

In contrast to the SFPD's fear-mongering hypotheticals, we don't have to look far to see why this decision could put San Franciscans in danger. We have plenty of examples of police using questionable or unjustified deadly force here at home. We also have examples of misuse of bombs and other explosives all over the country. Those include...
KRON:
SFPD clarified that it would not arm robots with guns. Instead, they would be equipped with explosives.
Update: After a week of press, letters, and an in-person protest, the supervisors voted to send it back to committee for rewrites. Mandelman, Stefani, and Dorsey voted against that, holding firm on their position that it's cool for SFPD to murder suspects by drone.
Previously, previously, previously, previously, previously, previously.