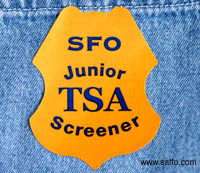 I didn't post about this when I first read the article because I just didn't have the energy to point out all the ways that the Washington Post's reporting sucked. But thankfully,
Violet is on the case:
The TSA wants to go hogwild and buckwild with facial recognition AI in airports across the US, and I promise that every terrible detail of what WaPo discovered in its investigation will make you scream. It continues to blow me away that no decision makers know a red flag factory when they see one. I can't wait to see which slimy startup got the fat contract cash, how fast they get popped, how racist their AI is, how long they lie about getting popped, and who our data will be "rented" to (not sold, of course, not even Facebook sells our data).

Not that this is a great article. It's unquestioning copypasta of TSA statements that quite literally contradict the "good news" this reporter claims, like that there's a way to "opt out."

"But the TSA hasn't actually released hard data about how often its system falsely identifies people, through incorrect positive or negative matches... The TSA says it doesn't use facial recognition for law-enforcement purposes. It also says it minimizes holding on to our face data... But the TSA did acknowledge there are cases in which it holds on to the data for up to 24 months so its science and technology office can evaluate the system's effectiveness...

Those who do not feel comfortable will still have to present their ID but they can tell the officer that they do not want their photo taken, and the officer will turn off the live camera. There are also supposed to be signs around informing you of your rights."
Previously, previously, previously, previously, previously, previously, previously, previously.