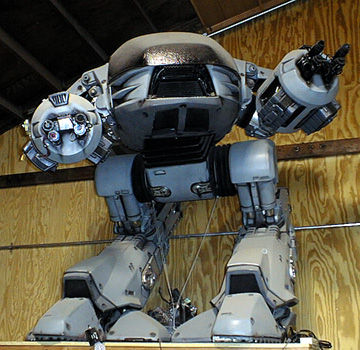 A policy proposal that is heading for Board of Supervisors' approval next week would explicitly authorize San Francisco police to kill suspects using robots.
Peskin initially attempted to limit SFPD's authority over the existing robots by inserting the sentence, "Robots shall not be used as a Use of Force against any person."

The following week, the department struck out his suggestion with a thick red line. [...]

The SFPD has 17 robots in its arsenal, 12 of which are described as fully functional. According to police spokesperson Officer Robert Rueca, they have never been used to attack anyone. The robots are typically used for investigating and defusing potential bombs, and for surveillance in areas too awkward or dangerous for officers to access. [...]

The law mandates that every police force in California must annually report its stock of all military-style weapons, their cost, how they can be used, and how they were used in the prior year. [...]

SFPD omitted all of its 608 semi-automatic assault rifles, 64 machine guns, and 15 submachine guns from the new use-of-force policy. [...] The rationale given for the removal of these assault rifles from the policy: the Chief of Police defines them as "standard issue service weapons." [...]

"The law defines 'military weapons,' not the chief of police," wrote civil rights lawyer Moyer over email. "San Francisco is not the only department to attempt to redefine 'military weapons' so as to justify hiding their use, costs, and upkeep from the public."
Previously, previously, previously, previously, previously, previously, previously, previously.