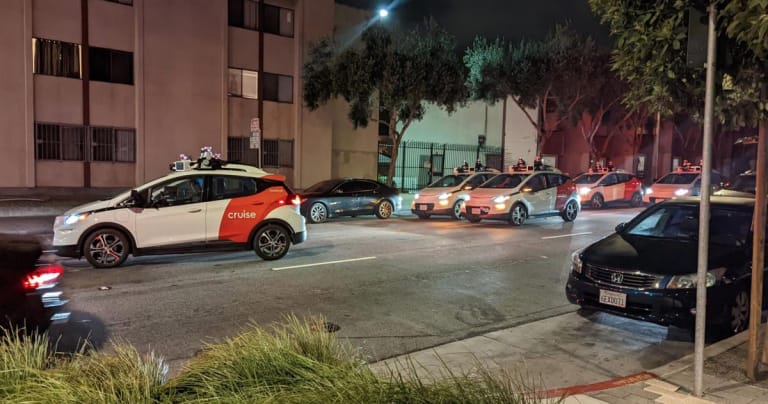 Cruise's driverless cars continue to stop in the middle of SF's streets for extended periods of time, often in groups, blocking traffic until they can be remotely restarted or manually retrieved by Cruise staff. Over the past week, there were at least four such incidents.
The City's letter to NHTSA provides specific data on these incidents. Between May 29 and Sept. 5 of this year, 28 incidents of stopped Cruise cars blocking traffic were reported to 911. The City identified an additional 20 such incidents reported on social media over that time period, which does not include the events of the past week. The City estimates that these figures represent "a fraction of actual travel lane road failures." [...]

The City's letter also raises concerns about Cruise cars' ability to pull over to the curb to pick up passengers. Currently, Cruise vehicles primarily double park in the travel lane when picking up and dropping off passengers, The City claims. That practice could exacerbate the vehicles' traffic impacts. [...]

San Francisco has no authority to regulate the autonomous vehicles on its streets, despite being the global epicenter of autonomous vehicle testing. In its letter, The City provided data to support this claim: Since NHTSA began tracking autonomous vehicle collisions nationwide in June 2021, two-thirds of those collisions took place in San Francisco. [...]

The City says that 68% of Cruise's travel lane failures have occurred on streets with a bus or streetcar line, and more than 80% have occurred on streets considered part of the "high-injury network," where most traffic accidents take place.
Previously, previously, previously, previously, previously, previously, previously, previously, previously.