James Baugh, eBay's former senior director of safety and security, was sentenced to almost five years in prison, while eBay's former director of global resiliency, David Harville, was given two years behind bars. Both pleaded guilty to charges in the case.
Baugh, Harville, and a number of other eBay executives in 2019 hatched a campaign to harass Ina and David Steiner, the editor and publisher of eCommercebytes, a website closely followed by online sellers. Prosecutors said the executives went after the couple after former eBay CEO Devin Wenig and other leaders inside the company were enraged by their coverage of the company. [...]

The campaign escalated further when the Steiners began to receive "disturbing deliveries" to their home outside of Boston, including a book on surviving the death of a spouse, a bloody pig mask, a fetal pig, a funeral wreath and live insects, prosecutors said. Additionally, Craigslist posts appeared online inviting strangers to experience sexual encounters at the victims' home.

Baugh, Harville and others also traveled from California to the Steiners' home to surveil the couple. They hoped to install a GPS tracker on the couples' vehicle, but the garage was locked, so Harville purchased tools to break in, according to prosecutors.

Five other eBay employees have pleaded guilty to conspiracy in the matter.
"I can't believe that rich white fratboys would do something like this" says prosecutor:
"The defendants' toxic brand of online and real-world harassment, threats, and stalking was outrageous, cruel and defies any explanation -- all the more because these men were seasoned and highly paid security executives backed by the resources of a Fortune 500 corporation," U.S. Attorney Rachael Rollins said in a statement. "Their behavior was reprehensible."
"Won't someone rid me of this meddlesome priest," rhetorically asks CEO:
A spokesperson for Wenig said an independent investigation has shown the former eBay CEO had no knowledge of the harassment campaign. "Devin never told anyone to do anything unethical or illegal and if he had known about it, he would have stopped it," the spokesperson said.

Wenig, who resigned as CEO in 2019, is not named in the case. The Steiners have filed a separate lawsuit against eBay, Wenig and former senior vice president Steve Wymer. That case is pending.
Previously, previously, previously, previously, previously, previously.
There is no sense in which moving people en masse to off-Earth habitats (on Mars or in space) will solve ANY of humanity's extremely pressing environmental or social problems, but I still want to go live in the cool space donut 🥺

If we solve Earth maybe we can have a little space donut, as a treat
Previously, previously, previously, previously, previously, previously, previously.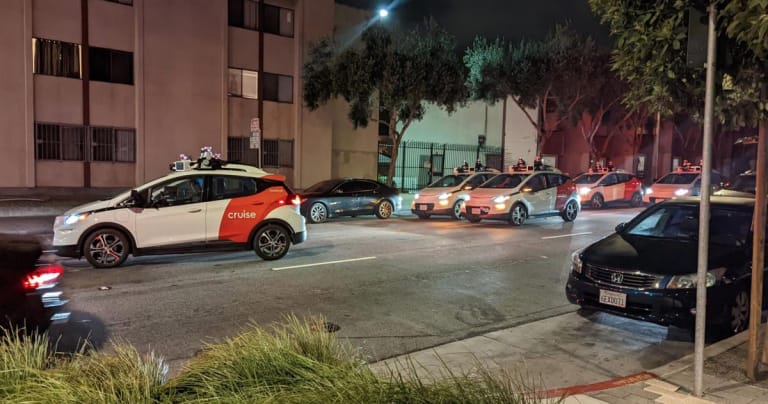 Cruise's driverless cars continue to stop in the middle of SF's streets for extended periods of time, often in groups, blocking traffic until they can be remotely restarted or manually retrieved by Cruise staff. Over the past week, there were at least four such incidents.
The City's letter to NHTSA provides specific data on these incidents. Between May 29 and Sept. 5 of this year, 28 incidents of stopped Cruise cars blocking traffic were reported to 911. The City identified an additional 20 such incidents reported on social media over that time period, which does not include the events of the past week. The City estimates that these figures represent "a fraction of actual travel lane road failures." [...]

The City's letter also raises concerns about Cruise cars' ability to pull over to the curb to pick up passengers. Currently, Cruise vehicles primarily double park in the travel lane when picking up and dropping off passengers, The City claims. That practice could exacerbate the vehicles' traffic impacts. [...]

San Francisco has no authority to regulate the autonomous vehicles on its streets, despite being the global epicenter of autonomous vehicle testing. In its letter, The City provided data to support this claim: Since NHTSA began tracking autonomous vehicle collisions nationwide in June 2021, two-thirds of those collisions took place in San Francisco. [...]

The City says that 68% of Cruise's travel lane failures have occurred on streets with a bus or streetcar line, and more than 80% have occurred on streets considered part of the "high-injury network," where most traffic accidents take place.
Previously, previously, previously, previously, previously, previously, previously, previously, previously.
Dear Lazyweb,
I have several Blackmagic MiniRecoder SDI → Thunderbolt dinguses. Every now and then they lose their minds and stop producing video unless unplugged and re-plugged.
Two questions:
How can I reset it without physical access? Is there some way to reset the whole thunderbolt bus, or to power-cycle all devices attached to it?

I have also noticed that sometimes it gets weirdly finicky about the cab.e Sometimes reversing the cable is necessary to make it work again. I have a stack of these fucking cables, some brand new, and sometimes one works and another doesn't; and then they trade, and the old one is the only one that will work.

How can I detect the thing having gone into the bad state?

When it is in the bad state, the "Blackmagic Desktop Video / Desktop Video Setup" app consistently says "No desktop video device connected" rather than listing the device name. So what I want to know is, how do I get that status result from a command line tool?

When it is in the bad state, "system_profiler SPThunderboltDataType -json" still lists the device. At some point I had believed that if link_status_key was 0x1 or 0x2, things were good, otherwise they were bad, but that is not good enough, apparently, since right now I'm seeing 0x2 but it's not working.

Here's the output on a Mac mini i5, 10.15.7, with a MiniRecorder in a working state:

And here it is on a Mac mini i7, 12.6, with a MiniRecorder in the bad state:
EFF:
The ordinance, backed by the Mayor and the SFPD, enables the SFPD to access live video streams from private non-city cameras for the purposes of investigating crimes, including misdemeanor and property crimes. Once the SFPD gets access, they can continue live streaming for 24 hours. The ordinance authorizes such access by consent of the camera owner or a court order.

Make no mistake, misdemeanors like vandalism or jaywalking happen on nearly every street of San Francisco on any given day -- meaning that this ordinance essentially gives the SFPD the ability to put the entire city under live surveillance indefinitely. [...]

What is this all about? During the hearing, several of the Supervisors talked about how San Franciscans are worried about crime, but failed to articulate how giving police live monitoring abilities addresses those fears. [...] Which leaves us to the sad conclusion that this ordinance isn't really about the safety of San Franciscans -- it's about security theater.
A broad coalition including the ACLU, the Public Defender's Office, the Lawyers Committee for Civil Rights, Asian Americans Advancing Justice, and the Council on American Islamic Relations, opposed the bill, saying in a letter to the board that:

If the SFPD asked the city to buy thousands of new cameras for live surveillance, residents and the Board would be rightly alarmed. The SFPD's proposal to exploit private surveillance cameras should be met with the same skepticism. [...]

The proposal broadly permits the SFPD to monitor people engaged in a wide array of peaceful activities. Specifically, the proposal dramatically lowers the standard needed for live surveillance by permitting the SFPD to tap into private cameras in response to any violation of criminal law, including misdemeanors. This would encourage the SFPD to cast an extremely large surveillance net to monitor activities completely unrelated to public safety.
This means SFPD can ask for consent to live monitor the hundreds of cameras controlled by a handful of business groups downtown. They've already done so successfully in Union Square, and are likely to get a thumbs up in Fisherman's Wharf and Mid-Market too.
Meanwhile: Castro CBD votes to end private security camera proposal funded by tech entrepreneur:
The security camera network would have been funded by a $695,000 grant by tech entrepreneur Chris Larsen [...] Larsen is the co-founder of cryptocurrency company Ripple and mortgage lender E-Loans. Larsen has been gifting security cameras to community benefit districts in the city since 2012, and his network now spans 1,000 cameras. The Castro CBD is the first neighborhood group to reject Larsen's funding. [...]

"Whether or not the public supports the proposal is not the most important question, but rather can this technology achieve the intended goal," said Brian Hofer, executive director of Oakland's Secure Justice. "As a subject matter expert that has extensively researched the use of cameras, I can confirm that these types of cameras have little-to-no statistically significant deterrent effect against the types of crimes identified here."

"You likely saw the Chronicle's article last month about 17 Walgreens locations closing over the last few years, along with a number of CVS stores," added Hofer. "Each of those facilities had dozens of cameras, and most had security guards."

"The lack of results speak for themselves," said Hofer.
Previously, previously, previously, previously, previously, previously.