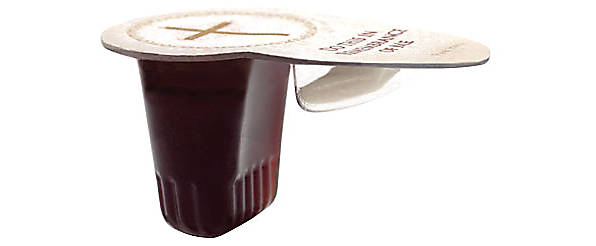 There are so many varieties to choose from!
Each communion cup features traditional unleavened communion bread and 100% Grape Juice together in one cup to allow for a 1-Pass method during the service.

Unique, Ergonomic Cup Design:

Easier to hold, position, and open for all from young to old
Flat side of cup allows for better grip and control of cup during seal removal
Large bread compartment allows for easy removal
One year shelf-life, no refrigeration needed
Prefilled Communion Cups
Our premier product is the Complete Communion Cup . . . the first truly Protestant prefilled Communion Cup containing Christian Bread in a standard sized Christian Communion Cup that fits into a Christian Communion Tray. Complete Communion does not make you worship with small Catholic wafers made to fit into prefilled Cups nor with an inconvenient cup that uses a side bread area. Complete Communion comes with delicious clear or purple Concord Grape Juice and is less expensive than other prefilled solutions that have been available until now! Absolutely the LOWEST EVERY DAY Prices for prefilled Communion Cups! COMPARE prices before you buy anywhere else!!
Prefilled Communion Cups Free Sample
We are so sure that you and your congregation will love prepackaged Communion cups with wafers from Celebrate Communion that we will send you a free sample so you can try them for yourself. Limit 1 per ministry please.