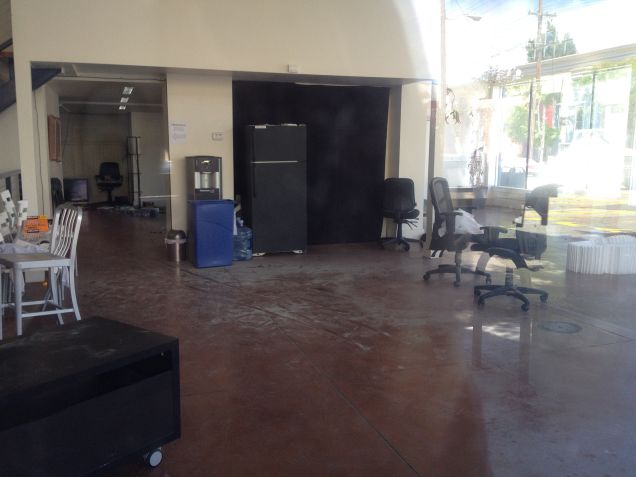 So that "pivoted" about as expected.
Million Fishes Art Collective sat at the corner of 23rd and Bryant for nearly a decade, reportedly paying over $5,000 a month in rent for a space deep within gang territory. The 10,000 square foot collective housed dozens of artists and was routinely open to the public for shows.

But soon the neighborhood became trendy among techies and the gang violence subsided. And in the fall of 2012, Million Fishes' landlord booted them from the space with the hopes of attracting a monied startup to the space. [...]

Squandering nearly $400,000 a year in venture capital just to be in a hip neighborhood proved to be a terrible investment for Bloodhound. Despite TechCrunch's glowing coverage and claims that their growth strategy was "working like a charm," the app didn't pan out. In a blog post authored on Valentine's Day this year, the company announced it was killing off conference app and 'pivoting' to a business card-scanning program.

Now it seems the startup has burned through its cash. According to a lawsuit filed in the San Francisco Superior Court last month, Bloodhound has become a deadbeat -- not paying their hefty rent since May.

When emailed for comment, Bloodhound co-founder Anthony Krumeich simply stated "We moved out of the office. No longer fit our needs." However court documents indicate Bloodhound has gone AWOL and abandoned their office. The landlord's attorney has not been able to issue the company or its founders a summons. Now court documents are prominently taped to Bloodhound's former front door. [...]

It's rarely a case of flailing businesses finally succumbing to their inevitable death -- it's often a story of sustainable small businesses being axed in favor of startups with speculative wealth. But the consequence of startups pushing up rents to unsustainable levels is that it ends up gutting the very culture that made these "hip" communities interesting in the first place.