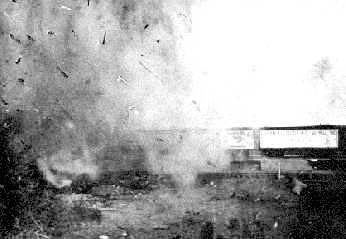 It was to be a spectacular 19th Century publicity stunt with a carefree carnival mood. It ended in explosions, flying metal and death.
Crush's proposal was to take two of the obsolete locomotives and put them on a track facing each other a couple of miles apart. The crews would then fire the engines up, get them moving and jump off. The trains would race toward each other, picking up speed, until they met in a fiery and spectacular crash. The railroad would charge nothing to view the man-made disaster, but would profit from tickets sold for special excursion trains running to the site. [...]

The trains hit very near to the expected spot. What was unexpected was that the boilers on both locomotives exploded like twin bombs. "There was just a swift instance of silence, and then as if controlled by a single impulse both boilers exploded simultaneously and the air was filled with flying missiles of iron and steel varying in size from a postage stamp to half of a driving wheel..." reported The News. The flying metal had a deadly effect. People ran in terror. Two young men and a woman were killed. Six other people were seriously injured. One of the official photographers lost an eye. The trains themselves were completely destroyed, except for their last cars, which remained virtually untouched. After the crowd recovered from the blast, it swarmed over the wreckage to find souvenirs.
Also: