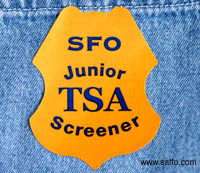 I expect great things from this young man.
The boy, who has not been identified, actually went to the airport both Wednesday and Thursday via light-rail, Metropolitan Airports Commission spokesman Pat Hogan said Sunday.

On Wednesday, he took a bag off the baggage carousel, went through TSA security and had lunch at a restaurant in the area that leads to the concourses. The boy told waitstaff at the restaurant that he had to use the restroom. Since there isn't a restroom in the restaurant, the boy had to enter one of the concourses. He left the bag and his lunch bill behind and never returned, Hogan said.

The bag belonged to an arriving passenger. When the passenger arrived, airport personnel were waiting for him and returned the bag to him. The passenger went through the bag and reported that nothing was missing.

On Thursday, the boy was seen on surveillance video talking to a Delta agent at the flight gate, Hogan said. When that agent was busy, the boy walked down the jetway and onto the plane.

It's unclear whether the boy chose the flight to Las Vegas at random or specifically wanted to get to the gambling mecca.