Excerpts from the birth chapter of the revised edition:
The normal process of birth starts with a series of involuntary contractions of the uterus walls. This is the first sign that the dark spirit has made his presence known. Eventually, the amniotic sac bursts and amniotic fluid escapes. This fluid should be preserved as it is known to a) help pigs and owls develop psychic abilities, b) hurt one's enemies when mixed with unstable explosives and c) cure female pattern chest baldness. When the cervix is fully dilated, further uterus contractions push the lazy baby out through the left vagina or nostril, and the baby is born with umbilical cord attached. If, when plucked, the umbilical cord is tuned to D-sharp it is considered a lucky birth. If it's tuned to G the child will most likely grow up to work in retail. If tuned to B-flat most parents are recommended to try for another child.
A short clip from the
Point Break Live
rehearsal this afternoon:
The first two shows are this Friday, and the early show is almost sold out! Have you got your tickets yet?
Tomorrow's Halloween! Do you have your tickets for that yet? Our staff have been working themselves to the... bone getting ready for you, muaaahahahaha. Thirteen spooooooky DJs in four rooms!
Also, check out our new bike rack! This now completes the Parklet Project. It was installed yesterday, and within an hour of the bolts going into the ground, there were eight bikes in it.
The
fix I reported
to delete the "Move to Dropbox" menu item stopped working and I haven't found another workaround.
So I'm uninstalling Dropbox entirely.
The only thing I used Dropbox for was keeping 1password in sync between my desktop and phone, so I guess it's time to figure out if 1password wifi sync works better now than the last time they tried that.
Unless someone else has figured out another workaround to keep Dropbox for spamming my context menu?
Yello Fairlight III. Signed front panel. Boris's sounds included, as well as all the libraries listed below, in 4 x hard drives.
There are four hard drives installed. Three are original, with Boris's sounds, [...] plus many libraries collected over the last 25 years 
dealing with top producers and musicians. These include libraries from: Pet 
Shop Boys, Trevor Horn, Hans Zimmer, Frankie goes to Hollywood, Art of Noise and many, many others. The complete Fairlight IIX library is also included.
See also: Peter Gabriel hitting TVs and recording The Rhythm of the Heat: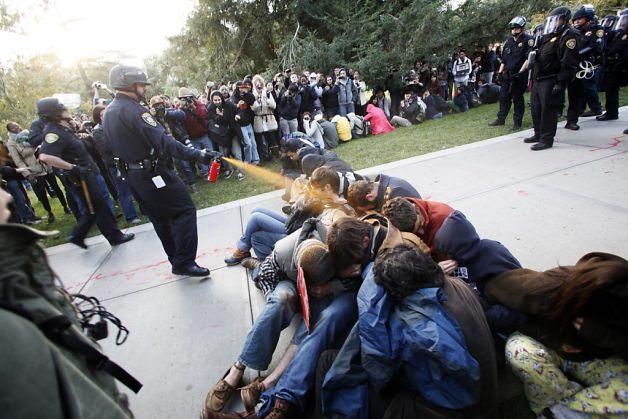 UC Davis pepper-spray officer awarded $38,000
A former UC Davis police officer whose pepper-spraying of protesters gained worldwide notice thanks to a viral video has been awarded more than $38,000 in workers' compensation from the university for suffering he experienced after the incident. [...]

Pike was suspended with pay afterward. According to a database of state worker salaries, he earned $119,067 in 2011, the last year for which figures are available.

More than 17,000 angry or threatening e-mails, 10,000 text messages and hundreds of letters were sent to Pike after the video went viral, according to the police union. [...]

Earlier this year, UC Davis settled a federal lawsuit by paying $1 million to three dozen protesters who were pepper-sprayed.
So that means his victims were awarded $27.7k each: $10k less than he got.
It must have been so hard for him to get his salty, salty tears out of his riot helmet after all of those mean, mean emails.