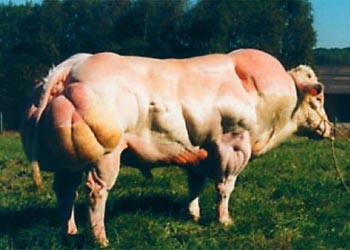 New drug mimics the beneficial effects of exercise
A drug known as SR9009, which is currently under development at The Scripps Research Institute (TSRI), increases the level of metabolic activity in skeletal muscles of mice. Treated mice become lean, develop larger muscles and can run much longer distances simply by taking SR9009, which mimics the effects of aerobic exercise. [...]

When Burris' group administered SR9009 to these mice to activate the Rev-Erbα protein, the results were remarkable. The metabolic rate in the skeletal muscles of the mice increased significantly. The treated mice were not allowed to exercise, but despite this they developed the ability to run about 50 percent further before being stopped by exhaustion.

"The animals actually get muscles like an athlete who has been training," said Burris. "The pattern of gene expression after treatment with SR9009 is that of an oxidative-type muscle -- again, just like an athlete."