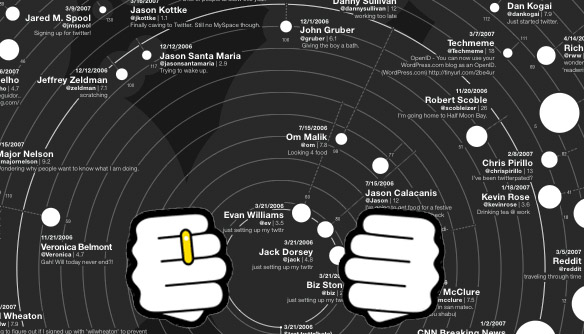 I've been hearing about -- but not reading --
@twentitled
for at least a year, because hey, "tech douchebags act like douchebags" is a dog-bites-man story if there ever was one.
But today a friend inside Twitter said, "Our comms team was crying a river over this today."
So I'm passing it along because anything that makes the Twitter Comms Team cry is good and should be encouraged. They are bad people in a despicable line of work, and I gleefully endorse anything that makes them fail in their ham-handed attempts at media manipulation.
So let's hope this "trends", as the kids say today.
Self-Loathing Twitter Employee Chronicles the Doom and Decadence of San Francisco's Most Tax-Exempt Startup:
Meet Twitter Entitled, an unfortunate and pitifully hilarious collection of overheards within the headquarters of Mid-Market's golden goose. It's blood-boiling, really -- like watching Veruca Salt tantrum her way through Wonka's Chocolate Factory.

#1: There is so much fatty food here, they should pay for gym memberships.
#2: They do
#1: Ugh, whatever.

Every time I notice the valet has adjusted my seat, I honestly consider just parking the car myself...

the seared tuna at lunch was good, but the caviar on the tartare was meh.

fucking BART, I'm late for my massage.

I like the free Square readers we get from Jack, but without free iPad's also, they're unusable.

How many times can they possibly serve Wild King Salmon Steaks for dinner? I'm all for Salmon, but a little variety would be nice.

#1 Bike to work day?
#2: Oops, I took an Uber.

Anyone want to charter a helicopter with me in Vegas?
Previously, previously, previously, previously, previously, previously, previously, previously, previously, previously, previously, previously, previously, previously.