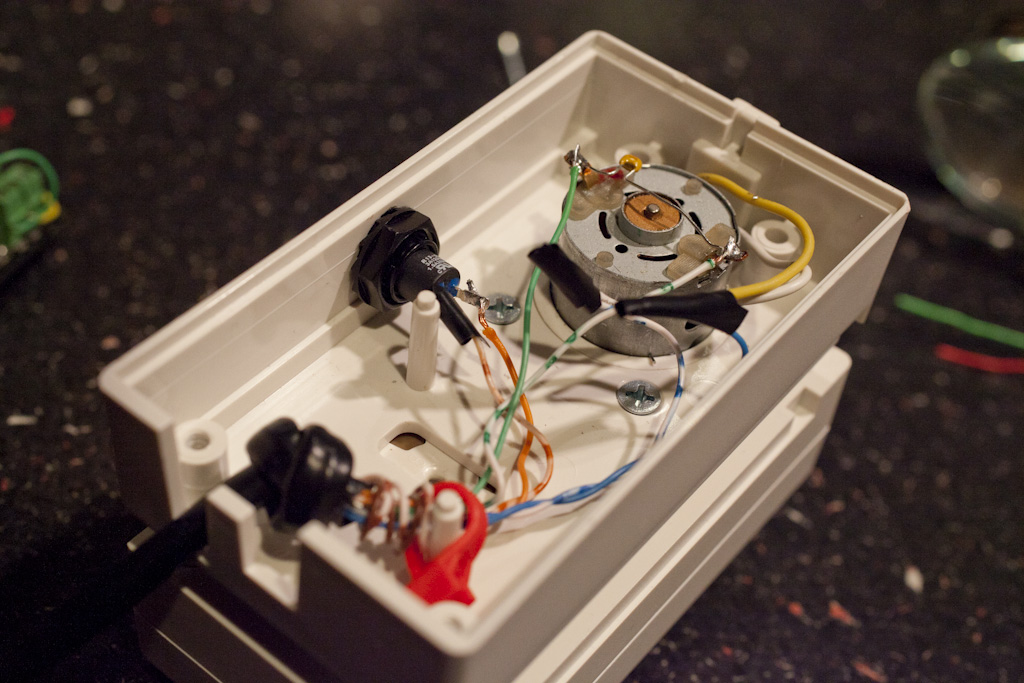 Dear Lazyweb,
My curtain automation is very loud. The idea was for it to open the curtains in the morning as a gentle reminder that the Sun exists and I should get out of bed, but the reality is that the noise rather than the light wakes me up most days.
As far as I can tell, most of the noise is coming from the motor itself rather than from the gearing or the curtain track, so I'd like to replace the motor with one that is quieter. It couldn't hurt to have one that was more powerful as well, since this one is clearly straining a bit toward the end of the cycle.
What am I looking for? I don't know how to shop for these things or how any of this is specified.
The existing motor is about 1" in diameter, and the replacement would need to be very close to the same size. You can see it in the photos. It's 12VDC now but with a little hassle I could run it on something else.
I may try building a padded box over the whole contraption, but that doesn't strike me as a very promising approach.

Update:
Victory! My curtain is now insanely quiet. Thanks to several of the suggestions here, it was a multi-pronged approach that did not involve replacing the motor at all.
I opened up the box housing the motor and gearbox (pictured above) and packed it full of clay (Sculpey).

I built a cardboard box to hang on the wall around that contraption, with just two holes at the top for the pulley ropes to penetrate. I lined the inside of it with PC-case sound-foam, and lined the outside with two layers of 1/8" mass-loaded vinyl. At that point, the motor was almost inaudible. The box isn't pretty, but it's hidden behind the curtain, so it's invisible.

I then moved on to the next-noisiest thing, and lubed up the curtain track and its wheels with aerosol Tri-Flow.