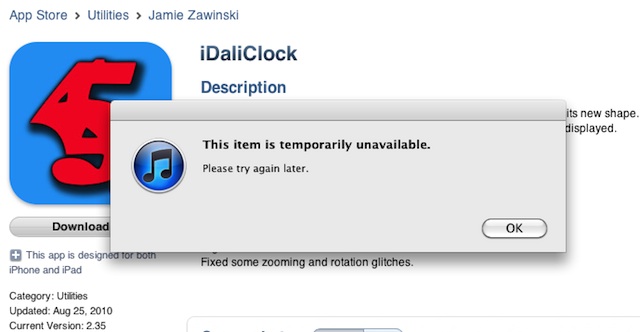 Incidentally,
Dali Clock
is back in
the app store
, for now.
In order to debug my XScreenSaver port, I had to tithe Apple the usual $107 in order to have the "privilege" of debugging software that I wrote on hardware that I own.
If you let your "developer" membership lapse, they lock out all of your old apps. Even if those apps have already been approved, and haven't been modified in years, they stop letting people download them. It would cost them exactly nothing to have just left it there. They had already approved that exact binary, and on my dime. They disabled it purely for extortionary purposes. Fuck you, Apple. You are dicks.
But once I renewed, it came back to life, so if you don't have a copy already, get it while you can because it will presumably vanish again in 12 months when I next find that I have no other reason to pay them.