I talked before about my
complete failure to find a sticker vendor
who was capable of printing glow-in-the-dark stickers that were DNA-green instead of glowstick-yellow.
Well, I had a second idea for a sticker, which was one that would, when placed on an Apple laptop, cause the light-up bit to glow a DNA Lounge logo instead of an Apple logo. The trick being to make the opaque part of the sticker be opaque enough that the Apple doesn't shine through the background anyway. After going round and round with several sticker vendors and getting no guidance on whether it would work, I reached the conclusion that nobody had ever tried this before.
But, we had a batch printed up anyway just to see, and, yup, it doesn't work. These are printed on fairly thick white vinyl, and you have to stack three stickers on a Mac to cover up the Apple glow in direct sunlight. In the dark, you can still see it, and three stickers are already way too thick.
You can't see it in this photo, but the light shows through the black parts too. Possibly it would have worked if we had printed a solid layer of black on white vinyl and then printed the green and black on top of that, or even multiple hits of background black, but no one we talked to was willing to consider doing anything even remotely complicated or creative.
Possibly it would have worked with die-cut black vinyl instead of white, but I kind of doubt it. I suspect the only way to make it work would be die-cut aluminum with glue on the back, but who wants to pay $20 for a sticker?
Fail.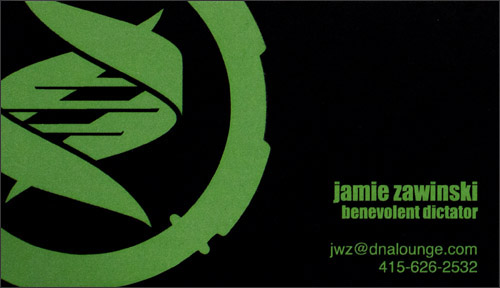 Oh, and speaking of those glow-in-the-dark stickers... We tried a dry run experiment by having our business cards printed with glowing green. The cards themselves were printed with a digital CMYK process, and then a second pass of transparent glow ink was screen printed on top of that (making them thick and sandpapery). These were very expensive business cards... and they don't glow. If you charge them up and cup your hands over them, you can kinda-sorta see the glow, but turn off all the lights and you can't see any glow when they're 6" from your face.
Even if it did work, the guy who was willing to go to the extra effort to print these cards doesn't do stickers at all. If it had worked we might have tried harder to talk him into it, but it didn't.
And... fail.