Skip forward to 0:23 to see the snakebot hump some guy's leg.
Microwave weapon will rain pain from the sky
The Pentagon's enthusiasm for non-lethal crowd-control weapons appears to have stepped up a gear with its decision to develop a microwave pain-infliction system that can be fired from an aircraft.

The device is an extension of its controversial Active Denial System, which uses microwaves to heat the surface of the skin, creating a painful sensation without burning that strongly motivates the target to flee. The ADS was unveiled in 2001, but it has not been deployed owing to legal issues and safety fears.

Nevertheless, the Pentagon's Joint Non-Lethal Weapons Directorate (JNLWD) in Quantico, Virginia, has now called for it to be upgraded. The US air force, whose radar technology the ADS is based on, is increasing its annual funding of the system from $2 million to $10 million.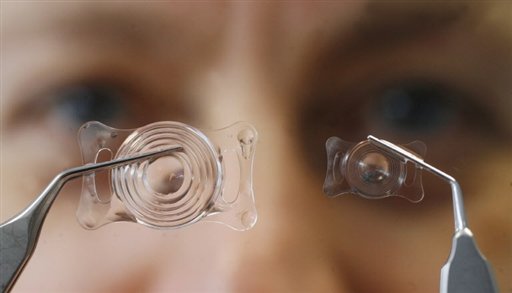 Contact lenses for animals
Lions, giraffes, tigers, rabbits, bears, rhinos and even owls can go blind from cataracts, but an east German firm has an answer: custom-made "contact lenses".

The acrylic intraocular lenses are implanted into animals' eyes when their vision has clouded to the point of total impairment, and are fitted for various species, from cat-eye-sized to fist-width for rhinos.

Impaired vision can also blunt the sex drive, stopping animals from reproducing. The World Wildlife Fund, for example, has paid for lens transplants for brown bears in a preserve in China.