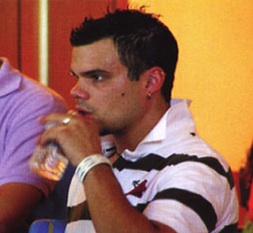 Alleged "Douchebag" Sues Author
Claiming that he has been unfairly branded a "douchebag" in the book "Hot Chicks with Douchebags," a Las Vegas man has filed a libel lawsuit against the volume's author and publisher. Michael Minelli, a 27-year-old club promoter, claims that the inclusion of his photograph in the book has subjected him to "hatred, contempt, and humiliation" and has resulted in "friends, acquaintances, coworkers, employees, and strangers alike" calling him a "douchebag."

As seen below, Minelli's photo appears on page 202 of author Jay Louis's book, which was published in July by Simon & Schuster. In the book, Louis noted that Minelli's "popped-collar, spikey-haired presence was so far beyond regular douche, so far beyond uberdouche, he could spontaneously create a new element on the periodic tables -- Douche Nine."

At the time he was photographed by Louis, Minelli was working the door at the popular "Rehab" party at the Hard Rock Hotel & Casino. As first reported by Courthouse News Service, Minelli's Clark County District Court lawsuit seeks unspecified financial damages and legal fees.

Last month, three New Jersey women sued Louis and his publisher over their appearance in "Hot Chicks with Douchebags," which they claimed was "vulgar" and presented them as "females who date dubious men."