Exhibit A:
Exhibit B: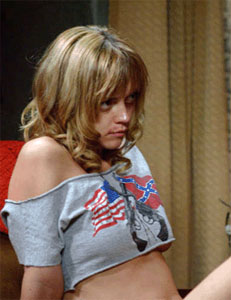 Ricci Revs Up Speed Racer
Christina Ricci is joining Larry and Andy Wachowski's live-action adaptation of the 1960s cartoon Speed Racer. Emile Hirsch, Susan Sarandon and John Goodman already have boarded the high-octane project, which is based on the anime series created by Tatsuo Yoshida for Japanese audiences and later imported to the United States.

Speed centers on a young race car driver, Speed (Hirsch), and his quest for glory in his thundering, gadget-laden vehicle, Mach 5. Ricci will star as Speed's girlfriend, Trixie, his formidable ally on and off the track.