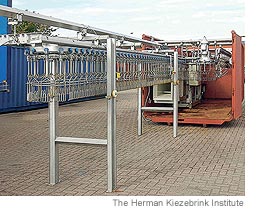 Dutch Farmer Takes Unusual Skills to Asia:
"Now he is also taking his skills to some places that need them urgently: Asian nations fighting bird flu. He has brought them some of his bird-slaughtering machines, such as the AED-100, which kills about 10,000 birds per hour, catching them by the feet and dragging their heads through an electrified pool of water.

"In the past two years, Mr. Kiezebrink has worked with health officials from nearly a dozen countries on how to safely and quickly eradicate birds that may have been exposed to flu. 'He's one of Europe's, if the not the world's, most prominent chicken killers, for want of a better word.'"