Cool RealVideo animation
of the launch, landing, and daily routine of the mars rover; ~9 minutes.
Update: Less-jerky Quicktimes of this are here.
Gladiator Tactical Unmanned Ground Vehicle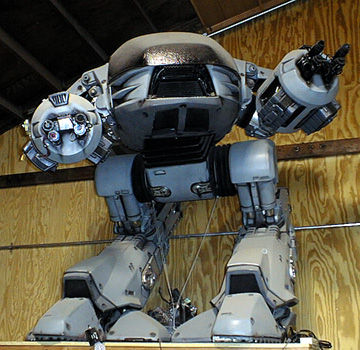 "A new unmanned robot with lots of weapons will be used as soon as 2007 by the Marine Corps to control angry crowds, reports the Honolulu Advertiser from Camp Smith, Hawaii."

Sgt. Arnold Den Beste, a military policeman at Kane'ohe Bay, said it took him about five minutes to learn how to drive the vehicle. "It's a very easy machine to operate," he said. "It's like a video game. You have a joystick and you drive it forward, backward, right or left."

The target cost for the Gladiator is $150,000.
Navy plans disposable ray guns
The Naval Surface Warfare Center has proposed that the Navy use a battery of solid-state, one-shot-only lasers to zap enemy boats and defend against missile attacks. This Expendable Modular High Energy Laser (EMHEL), Jane's Defence Weekly reports, would use a brick of 120, meter-long laser modules that could fire individually or in one giant pulse.

"Each individual module would contain a single-shot laser capable of firing 10 kilojoules of energy at peak power in a single burst," Jane's notes. "With such a system, Wardlaw said, 'you can drill through 6in of steel in under a second.'"
Speedpass-enabled Timex Watch Now Available Online!
"Are you the type of person who likes to be tracked, everywhere you go, any time? Are you the first on your block to have the latest gadget? Well, we have just the product for you -- the NEW SPEEDPASS-ENABLED TIMEX WATCH. Order yours today!"

"Your Speedpass-enabled Timex Watch is the fastest and easiest way to submit to 24/7 tracking of all your travels. No reaching for your papers, or fumbling with change. The new watch looks and functions just like a regular watch. However, inside the watchband is a miniature Speedpass radio frequency transponder that allows customers to instantly be monitored when they pass within range of any freeway in California!"
CAPE MAY, N.J., July 3 -- The hollowed hulks of 50 obsolete New York City subway cars were dumped into the Atlantic Ocean off South Jersey today to begin a watery new life as a haven for fish. [...] Recreational and commercial fishermen extolled the subway cars as welcome additions to the artificial reefs, which are piles of old Army tanks and armored personnel carriers, tons of concrete and other construction debris, and scrap steel. The reefs first attract mussels, barnacles and tiny plants. Then sea bass, tautog and flounder come to feed on them. Later, bigger game fish, sometimes tuna and sharks, arrive.